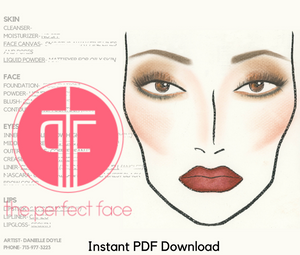 Do you have an event coming up that you want a new look for? Have you ever wondered which shades would bring out your eyes the most? Do you question where to put certain colors and what brushes to use?
Danielle Doyle, owner and creator of The Perfect Face Cosmetics has hand created our NEW Instant Face Charts
For our Debut instant face chart collection we are going back to our makeup roots and bringing you the pure glamour where it started, the stage! Whether you're a pageant contestant, a glamorous bride, or a prima ballerina Your Perfect Stage Face is now available in an instant!
Simply enter your eye color, skin-tone and age range for a complete look sent to you by email, immediately in an instant face-chart download. We make it incredibly easy to follow. Once you have downloaded your PDF you may click on each product and brush name listed for an easy link if you would like to purchase the products used.
 Our Instant Face Charts do not include brow colors, please see info and links below if you would like to add these products for a complete look.
 Brow suggestions
*Dark Blonde to medium brown hair - MORNING FOG
*Dark Brown to black hair - ESPRESSO
*Light Blonde to silver hair - TRUFFLE
*Strawberry Blonde - MACCHIATO 
*Deep red to Auburn hair - MICHAELA