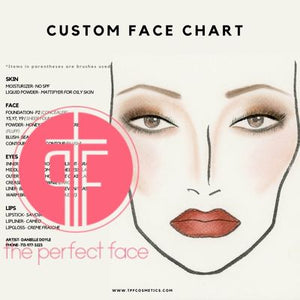 Our custom face charts are a perfect way to get a whole new look and a 20% discount on your favorite TPF products. Need a look for your next pageant, night on the town, or that oh so important job interview? We can create any beauty look you need. How? Follow these simple steps:
1. Fill out the brief questionnaire below.
2. Upload your photos to our system. (color matching article to read)

3. Add a Custom Face Chart to your shopping cart.
4. Complete your purchase of your Custom face chart
Within 3 weeks from purchase you will be emailed a sample version of your face chart to view your new look along with a cart of your recommended products and a coupon code for 20% off your product purchase.
*ANY CUSTOM FACE-CHARTS PURCHASED BEFORE DEC 12, 2020 WILL BE MAILED OUT TO BE RECEIVED BEFORE CHRISTMAS
*You must purchase a separate custom face chart for each look needed. For example: If you need an interview look and a stage look for a pageant you would purchase two (2) custom face charts. 
*Please Allow up to 3 weeks to receive your emailed sample version face chart and product recommendations. Your actual laminated face chart will be shipped with your product purchase. If you do not wish to purchase any products please let us know by email when purchasing your Face chart and we will ship it once it is created. 
AFTER ADDING THE FACE CHART TO YOUR CART PLEASE FILL OUT THIS FORM, UPLOAD YOUR PHOTOS AND CLICK SUBMIT. THEN GO BACK TO YOUR CART TO COMPLETE YOUR PURCHASE.