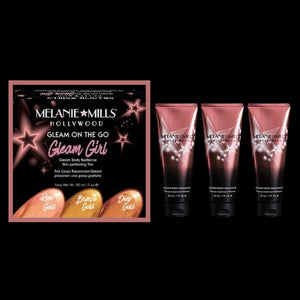 Take your Gleam on the GO!
Get 3X's the glamorous glow with the Gleam Girl Gleam Face & Body Radiance trio kit. Gleam Face & Body Radiance is a revolutionary all in one Makeup, Moisturizer & Glow you can use for face and body. Choose a shade that suits today's mood or mix them up to customize your look. Tuck this threesome into your purse, makeup bag or pro kit to get that lit from within glow wherever you go! The  Gleam Girl includes our three darker shades each in our 1oz/30ml size.
ROSE GOLD
Rose Gold was the first shade Melanie developed, the shade that started it all. A rich rose color with deep golden undertones
BRONZE GOLD
A Mediterranean pure liquid bronze with orange and olive undertones.
DEEP GOLD 
A unique rich golden chocolate shade with red undertones.
Multipurpose

★ For face: illuminating primer, mixing medium with foundation, eye shadow base, under-eye brightener and can be used as highlight, to contour or to bronze up
★ Known as liquid pantyhose and stunning for legs. Use anywhere on the body to skin perfect, bronze or glow.
Skin Care Benefits
★ Hydrating moisturizer with Jojoba Oil, Olive Oil, Vitamin E & Aloe Vera
★ Infused with Brown Seaweed for skin tightening & Kalpariane for wrinkle filling
★ Vegan & Gluten-Free formula
★ Dermatology Tested
Multicultural
★ Each shade works on all skin tones melting into any complexion, allowing 6 different finishes to choose from